SOM 360: a platform for disseminating information and resources in mental health
Learn how this portal specialized in mental health works and the opportunities to publish your knowledge and find useful digital resources.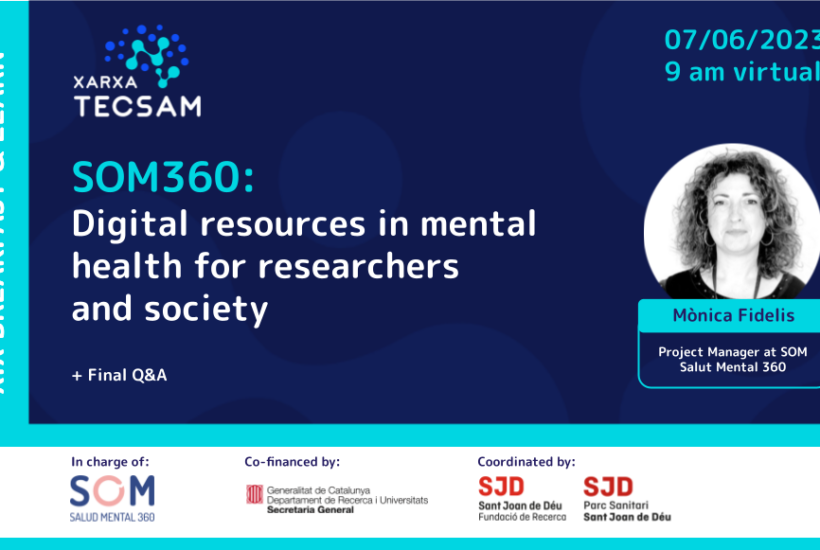 At the XIX Breakfast & Learn, you will discover this specialized portal for digital tools and resources in mental health, and how to collaborate to bring solutions and quality information to the public.  
Are you a researcher looking for a way to disseminate your research or transfer results? Would you like to know first-person experiences about mental health?  
On Wednesday, June 7th, from 9 to 10 a.m., we will celebrate the XIX Breakfast & Learn of the TECSAM Network, aimed at understanding how SOM Mental Health 360 works and how to participate. It is an open digital space with scientific content and digital resources in mental health for the research community, associations, the affected people, and society in general. 
This portal, driven by San Juan de Dios (SJD), aims to become a central tool for the dissemination of mental health and new technology research, due to the multiple options it offers: 
Publishing and disseminating research results.

 

Connecting with key entities and associations in the ecosystem.

 

Bringing technologies and solutions closer to affected people.

 

Learning about firsthand experiences and stories.

 
In order to explore the opportunities offered by this platform, we will be joined by Mònica Fidelis, project manager of SOM 360, who will share the different formats, content, digital resources, and initiatives available to the research community to advance their research. 
Find out how to participate in this digital space and connect and exchange your vision on mental health with other researchers, affected people, and organizations.  
Open registrations available here. 
Sign up to the newsletter to get updates
Subscribe now!