Research with gender perspective at the XVI B&L
Ways-to-do, tools and success stories to include the gender perspective in research and transfer. In charge of AQuAS.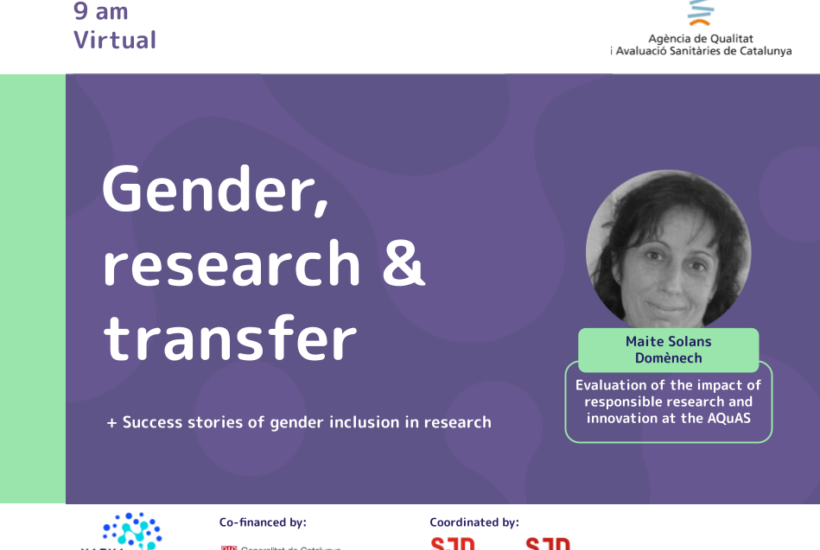 Do you consider the gender issue in the research and knowledge transfer process? Do you want to learn about tools and good practices in this regard?
On Wednesday, March 8 at 9 am we will celebrate the XVI Breakfast&Learn aimed at providing the research community with mechanisms to include gender sensitivity in research. 
On this occasion, the virtual meeting will be led by Maite Solans Domènech, in charge of promoting the evaluation of the impact of responsible research and innovation at the Agency for Health Quality and Assessment of Catalonia (AQuAS), who will give us a comprehensive view of the existing biases in research and some tools to break with this dynamic. 
Thus, the speaker will present the guidelines to follow and the criteria to take into account, accompanied by specific examples from the field of mental health, and in parallel, we will invite researchers to explain their experience in this area (pending confirmation of the speakers). Do not miss the opportunity to receive training from experts! 
Learn about ways-to-do, tools and resources for research and transfer with a gender perspective! Haven't you registered yet? 
Open registration here
Sign up to the newsletter to get updates
Subscribe now!