Technology and mental health in rural areas: 2 sucess stories
How does the use of AI-based technology contribute to improving the quality of life of people in rural environments? Find out!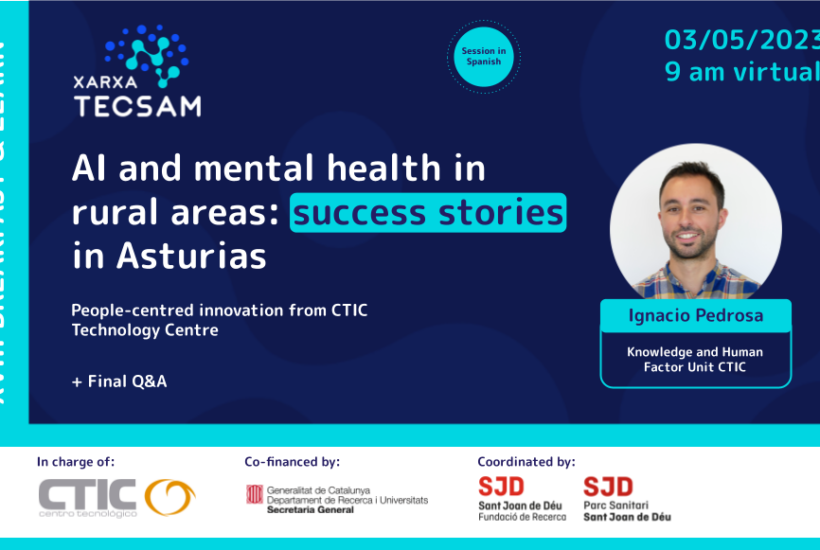 Learn more about 2 technological projects based on AI developed in rural environments in Asturias, by CTIC Technology Centre. 
New technologies are becoming a support tool in the field of mental health, facilitating people's access to treatment, especially in rural contexts where there is a lower ratio of professionals per population. 
With the aim of getting to know specific projects and initiatives based on digital technology that are being carried out in areas far from urban centres and that provide a response to one or more mental health problems, we are organising the 18th Breakfast & Learn of the TECSAM Network on Wednesday 5 May at 9am. 
This virtual meeting, entitled "AI and mental health in rural areas: success stories in Asturias", aims to be a space to deepen in the development and implementation of technological solutions with a user-centred approach and oriented to the promotion and prevention of mental health or treatment of mental disorders. 
On this occasion, the session will be led by Ignacio Pedrosa, from the Knowledge and Human Factor Unit of the CTIC Technology Centre, who will explain some success stories of the introduction of solutions based on artificial intelligence in rural health areas, specifically in Asturias. 
Thus, attendees will be able to learn first-hand how the use of cutting-edge technology can be a beneficial tool for people living in the so-called open Spain. He will present the following projects developed by CTIC: 
Smart environment based on IoT and gamification for the promotion of active ageing in an older adult population in a semi-rural area affected by depopulation.

 
Expert system based on intelligent data analytics and Big Data for individual screening of potential suicidal or self-harming tendencies in Primary Care, implemented in a rural health area.

 
Save your place for Breakfast & Learn where, for the first time, we will address the geographical factor and present real experiences of technological projects that address mental health issues. Don't miss it! 
Sign up to the newsletter to get updates
Subscribe now!