Practical communication tools for transfer
How to take the most of communication to facilitate the arrival of innovative solutions on the market? Tips and tools at the XVII B&L.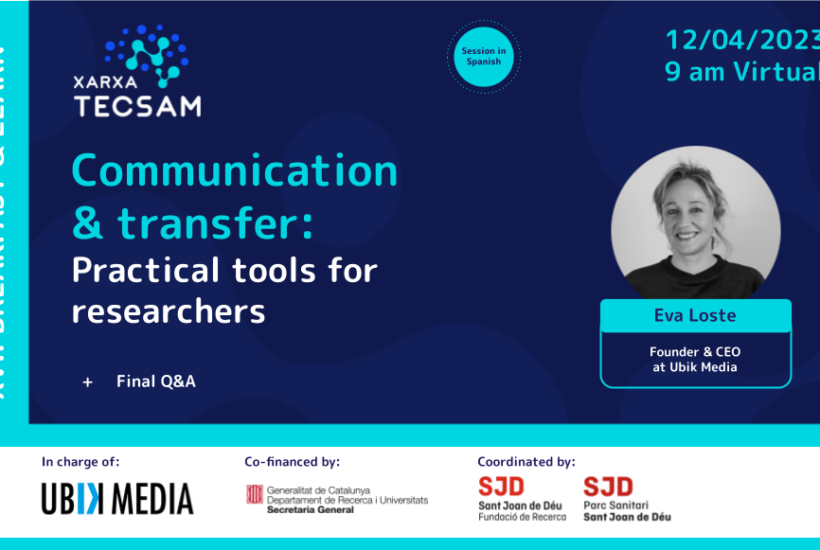 There are no scientific findings if they are not known. Communication becomes a key element for the transfer of research results. 
What are the advantages of having a communication strategy and tools? With the aim of getting to know the window of opportunities that communication opens for the research community, on Wednesday 12th April at 9am we will celebrate the XVII Breakfast&Learn of the TECSAM Network, under the name "Communication and transfer: practical tools for researchers". 
This meeting, which will take place in a virtual format, will explore the value of communication: from greater visibility and projection of the research group to the possibility of establishing potential contacts and collaborations, attracting more funding or getting closer to users. 
Eva Loste, founder and CEO of the communication agency Ubik Media, will accompany us in this session. She will talk about why it is necessary to disseminate scientific knowledge of research groups and will give us a series of tools to facilitate this task for researchers. 
Have you ever thought about strengthening your communication skills and developing this area within your research group? This new Breakfast & Learn event aims to address the importance of exploiting the resources available in the field of communication in order to benefit from all its advantages. 
Don't miss the opportunity to find out how you can have a greater impact on the scientific community, increase your professional prestige, publicise your research projects and attract the attention of investors, accelerators and other potential funders. Register here!
About the Breakfast & Learn 
The Breakfast&Learn is a formative initiative dedicated to innovation, valorization and transfer with a special focus on mental health and technology, led by the TECSAM network with the collaboration of the Catalan mental health cluster, Cluster Salut Mental Catalunya (CSMC). These open meetings are expected to be a monthly space where knowledge is shared and synergies and networking are generated, where the speakers will be guests with expertise in the sector, including administration, research, the private sector, as well as users and families. 
The meetings will focus on three major thematic areas: Tools for bringing society and research closer together (innovation, marketing, contact with the private sector, business models, spin-offs, empowerment of affected and user people…), tools for protecting research results (intellectual protection, patents, other protection models…), and tools for doing research with clinical research (ethical regulatory aspects, medical devices, digital tools, software…). 
AGENDA: 
9h – Welcome to the 16th Breakfast & Learn 
9:05h –Virtual session "Communication and transfer: practical tools for researchers", by Eva Loste, founder and CEO of the communication agency Ubik Media.
9:45h – Q&A 
10h – End of the meeting
Sign up to the newsletter to get updates
Subscribe now!