New European calls for mental health
Wednesday 12 January 2022, at 9:15, we celebrated the third virtual and free encounter .Breakfast.Learn' of the TECSAM Network, with ACCIO.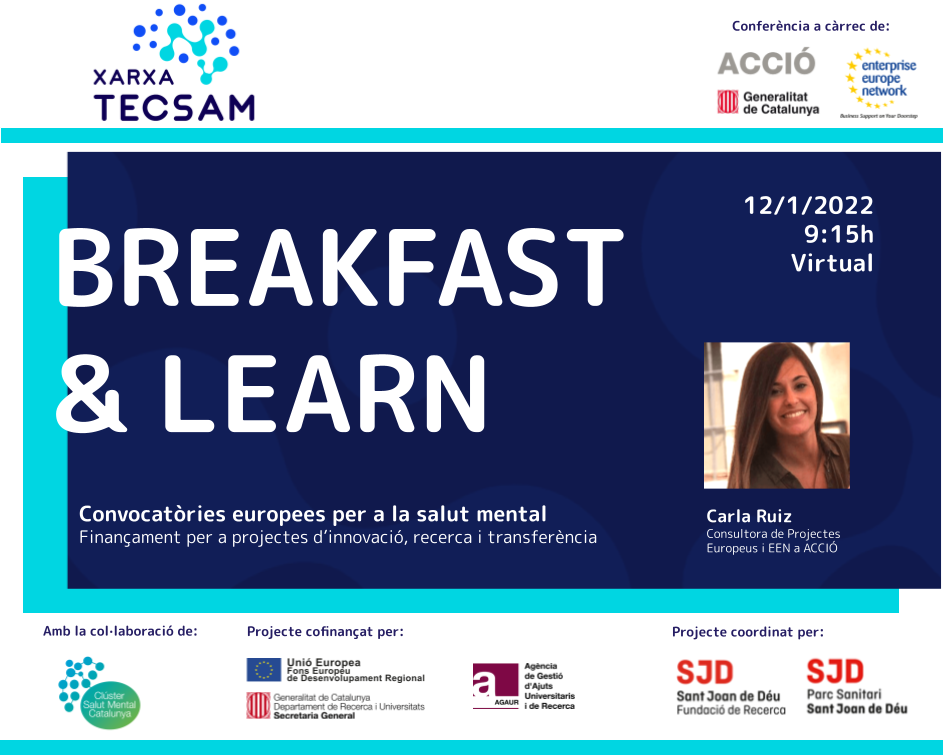 2022 will be a year with a lot of movement as regards European funding calls. In order to focus on so many calls, we in the TECSAM network have asked Carla Ruiz, the European Project Consultant and Enterprise Europe Network (EEN) to take action, to share with us her knowledge of European calls and funding for innovation, research and transfer projects, focusing on mental health.
The virtual meeting will take place on Wednesday 12 January 2022, at 9:15h. It will be the third free virtual 'Breakfast&Learn' of the TECSAM Network, with free access prior registration in this form. 
Ruiz is a graduate in biotechnology and has a Postgraduate course in Innovation and Management of R+D Projects, with great professional experience in the sector. She is currently part of the ACCIÓ team, where she guides Catalan companies in the management of international calls, especially those dedicated to Life Sciences, Agrofood and Biotechnology sectors.
During the talk, under the name 'European Mental Health Calls: Funding for Innovation, Research and Transfer Projects', Ruiz will pass on to assistants her knowledge of European funding with which they can encourage and follow up on innovation projects and new research to do in mental health.
The final section of the meeting will be reserved to answer questions from the assistants. 
About the Breakfast&Learn
The Breakfast&Learn is a formative initiative dedicated to innovation, valorization and transfer with a special focus on mental health and technology, led by the TECSAM network with the collaboration of the Catalan mental health cluster, Cluster Salut Mental Catalunya (CSMC). These open meetings are expected to be a monthly space where knowledge is shared and synergies and networking are generated, where the speakers will be guests with expertise in the sector, including administration, research, the private sector, as well as users and families.
The meetings will focus on three major thematic areas: Tools for bringing society and research closer together (innovation, marketing, contact with the private sector, business models, spin offs, empowerment of affected and user people…), tools for protecting research results (intellectual protection, patents, other protection models…), and tools for doing research with clinical research (ethical regulatory aspects, medical devices, digital tools, software…). Also, the member groups of the Network can participate as expert speakers or participants at round tables.
In the upcoming weeks, the TECSAM network will confirm the final timetable for these meetings.
PROGRAM: 
9:15h – Welcome to the Breakfast & Learn by the TECSAM Network 
 
9:25h -Presentation: "European Mental Health Calls: Funding for Innovation, Research and Transfer Projects", by Carla Ruiz, Consultant for European Projects and EEN in ACCIÓ  
 
9:55h – Q&A
 
10:15h – End of the meeting 
Sign up to the newsletter to get updates
Subscribe now!