How to go from research to innovation and entrepreneurship
On Wednesday, 1st December, at 9:15 a.m., we will learn more about how to make this happen with Mariona Esquerdo, from Ship2B, on the II Breakfast & Learn from the TECSAM Network.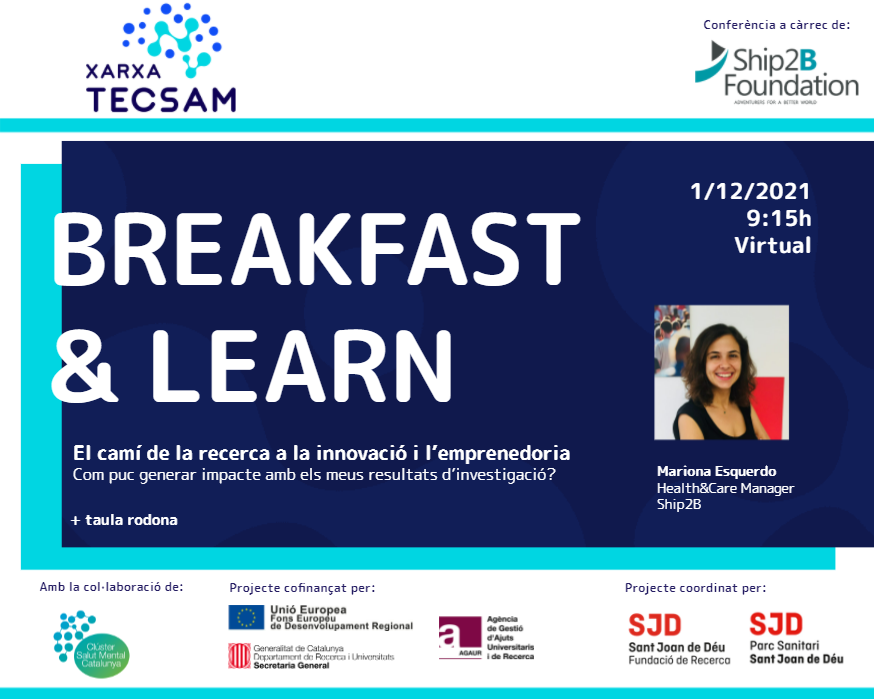 Mariona Esquerdo, Health&Care Manager at the Ship2B Foundation, will share her knowledge in how to generate impact from research results during the second free and virtual encounter 'Breakfast & Learn', organized by the TECSAM Network.
The virtual meeting will take place on Wednesday 1st December at 9:15 am with free access prior registration in this form. 
Esquerdo holds a Ph.D. in Molecular Genetics from the University of Barcelona and has great professional experience in Innovation and Bussiness Development. She is currently part of the Ship2B Foundation team where she accompanies entrepreneurs in the generation of health-related startups.
During the talk, under the title "The path from research to innovation and entrepreneurship. How can I generate impact with my research results?", Esquerdo will share her vision as an expert on the process of getting the research results to effectively reach users and health practice.
A small round table will then be held in which experiences will be presented in transfer and generation of startups and/or spin-offs within the TECSAM Network. The final section of the meeting will also be reserved to answer questions from the assistants.
About the Breakfast & Learn
The Breakfast&Learn is a formative initiative dedicated to innovation, valorization and transfer with a special focus on mental health and technology, led by the TECSAM network with the collaboration of the Catalan mental health cluster, Cluster Salut Mental Catalunya (CSMC). These open meetings are expected to be a monthly space where knowledge is shared and synergies and networking are generated, where the speakers will be guests with expertise in the sector, including administration, research, the private sector, as well as users and families.
The meetings will focus on three major thematic areas: Tools for bringing society and research closer together (innovation, marketing, contact with the private sector, business models, spin offs, empowerment of affected and user people…), tools for protecting research results (intellectual protection, patents, other protection models…), and tools for doing research with clinical research (ethical regulatory aspects, medical devices, digital tools, software…). Also, the member groups of the Network can participate as expert speakers or participants at round tables.
In the upcoming weeks, the TECSAM network will confirm the final timetable for these meetings.
PROGRAM: 
9:15h – Welcome to the Breakfast & Learn by the TECSAM Network.
9:25h -Presentation: "The path from research to innovation and entrepreneurship. How can I generate impact with my research results?", by Mariona Esquerdo, Ship2B Health&Care Manager.
9:45h – Round Table of Discussions to share experiences from groups in the TECSAM Network. Q&A.
– Petia Radeva, Computer Vision and Machine Learning at University of Barcelona (CVML@UB), and IP at Centre de Visió per Computador (CVC). Universitat de Barcelona (UB) & Centre de Visió per Computador (CVC).
– Christian Stephan-Otto, IP of 'Cerebral imprints of gender, development and pathology' at Parc Sanitari Sant Joan de Déu (PSSJD) / Fundació Sant Joan de Déu (FSJD).
– Josep Lluís Arcos, Investigator at Institut d'Investigació en Intel·ligència Artificial IIIA-CSIC and 'Machine Learning Applied to Healthcare (ML4HEALTHCARE)' IP at IIIA-CSIC.
Sign up to the newsletter to get updates
Subscribe now!