TECSAM Network: from research to transfer in mental health
Do you want to learn about tools to transfer research results to the market? Discover how the TECSAM Network helps member groups in tech transfer.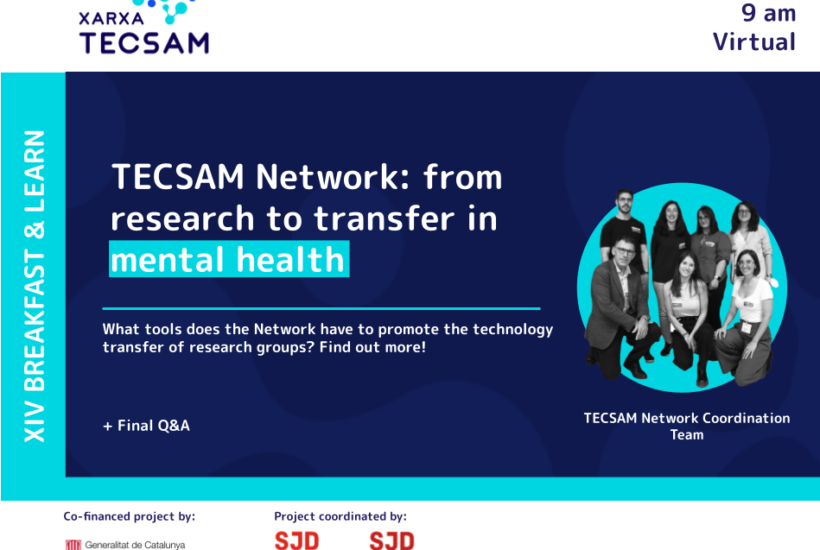 The process of transferring research results, scientific knowledge and findings, technology or intellectual property generated from research centres and universities contributes adds great value to the social and productive fabric and to society in general. 
The aim of the TECSAM Network is to dynamise this process of knowledge transfer. At the XIV Breakfast & Learn, the first of 2023, the TECSAM Network will present its resources and tools to promote the transfer of knowledge and technology from member research groups to the market and society, as well as its calendar of calls, activities and actions for 2023. 
This virtual meeting, entitled "TECSAM Network: from research to transfer in mental health", will be held on Wednesday 25 January at 9 a.m. and will be given for the first time by the Network's coordinating team.  
In the Network we understand transfer from a double perspective: the transfer of technology to the market, but also the dissemination of knowledge and research results. Therefore, we will focus on the main actions of the Network and its support tools to achieve this dual objective. 
We will talk about the culture of transfer and the mechanisms that the Network has to bring disruptive solutions developed from mental health research to the market and strengthen the innovative ecosystem together with other entities and institutions in the field of mental health. 
Register for this free session and learn about the actions carried out by the Network in the field of knowledge transfer and valorization. 
About the Breakfast & Learn 
The Breakfast&Learn is a formative initiative dedicated to innovation, valorization and transfer with a special focus on mental health and technology, led by the TECSAM network with the collaboration of the Catalan mental health cluster, Cluster Salut Mental Catalunya (CSMC). These open meetings are expected to be a monthly space where knowledge is shared and synergies and networking are generated, where the speakers will be guests with expertise in the sector, including administration, research, the private sector, as well as users and families. 
The meetings will focus on three major thematic areas: Tools for bringing society and research closer together (innovation, marketing, contact with the private sector, business models, spin-offs, empowerment of affected and user people…), tools for protecting research results (intellectual protection, patents, other protection models…), and tools for doing research with clinical research (ethical regulatory aspects, medical devices, digital tools, software…). 
Agenda
9h – Welcome to the 14th Breakfast & Learn 
9:10h – Virtual session "TECSAM Network: from research to transfer in mental health", by the TECSAM Network coordination team. 
9:45h- Q&A 
10h- End of the meeting 
Sign up to the newsletter to get updates
Subscribe now!