[B&L III Video]: European R+D funding in mental health: ACCIÓ tips for 2022
Carla Ruiz, ACCIÓ Consultant, speaker on III B&L of the TECSAM Network: 'European calls for mental health: Funding for innovation, research and transfer projects".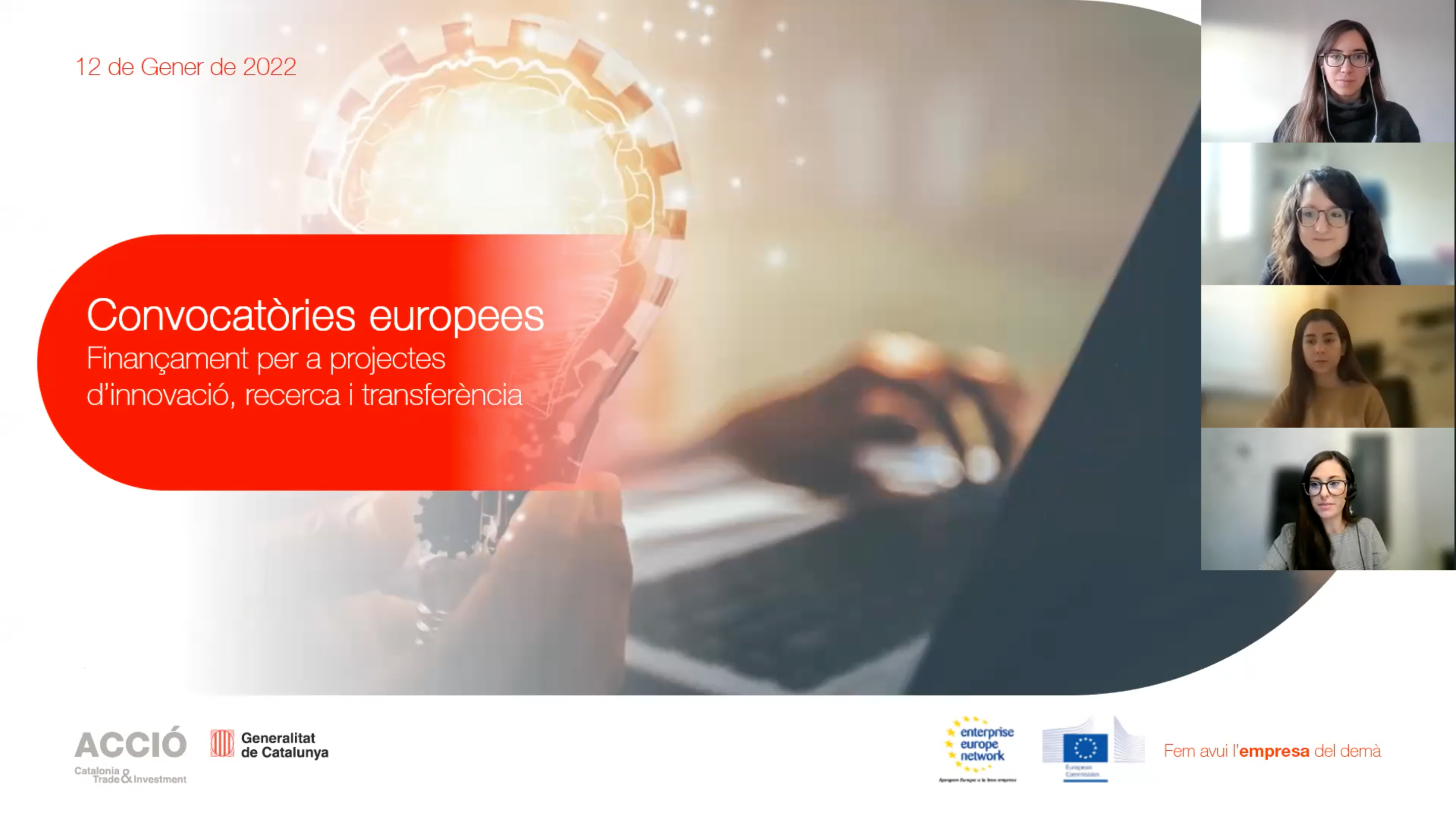 Horizon Europe is the most important current programme in terms of forthcoming European funding opportunities for R+D projects in mental health. Other programs such as EU4Health or Horizon Europe's own partnerships are also planned to launch calls for tenders in the near future.
This has been explained today by Carla Ruiz, the European Project Consultant and EEN for Action, the guest rapporteur on the meeting 'European Conferences for Mental Health: Funding for innovation, research and transfer projects". Ruiz has shared and deepened the characteristics, requirements, dates and strategies to stand for the European calls of this 2022. 
More than 50 people have attended this free virtual third meeting "Breakfast&Learn", organized by the TECSAM Network, where they have been able to resolve doubts and learn more about these calls and tools to find partners. 
Judit Lopez, Responsible for Promotion of the TECSAM Network, has been in charge of presenting and directing the event.
Both ACCIÓ and the TECSAM Network are at assistants disposal for the coordination and search for partners for European projects. Furthermore, Ruiz has recalled that participation in a Brokerage event with Horizon Europe hotspot organised by EEN and the European Commission for this purpose is open until 31 January. 
You can watch III Breakfast&Learn again here:
About the Breakfast&Learn
The Breakfast&Learn is a formative initiative dedicated to innovation, valorization and transfer with a special focus on mental health and technology, led by the TECSAM network with the collaboration of the Catalan mental health cluster, Cluster Salut Mental Catalunya (CSMC). These open meetings are expected to be a monthly space where knowledge is shared and synergies and networking are generated, where the speakers will be guests with expertise in the sector, including administration, research, the private sector, as well as users and families. 
The meetings will focus on three major thematic areas: Tools for bringing society and research closer together (innovation, marketing, contact with the private sector, business models, spin offs, empowerment of affected and user people…), tools for protecting research results (intellectual protection, patents, other protection models…), and tools for doing research with clinical research (ethical regulatory aspects, medical devices, digital tools, software…). 
In the next few weeks, the TECSAM Network will confirm the final timetable for these meetings.
Sign up to the newsletter to get updates
Subscribe now!