Defining business models from mental health research: IV Breakfast&Learn
Wednesday 9 February 2022, at 9 a.m., we held the fourth free virtual meeting 'Breakfast&Learn' of the TECSAM Network, with Inveniam.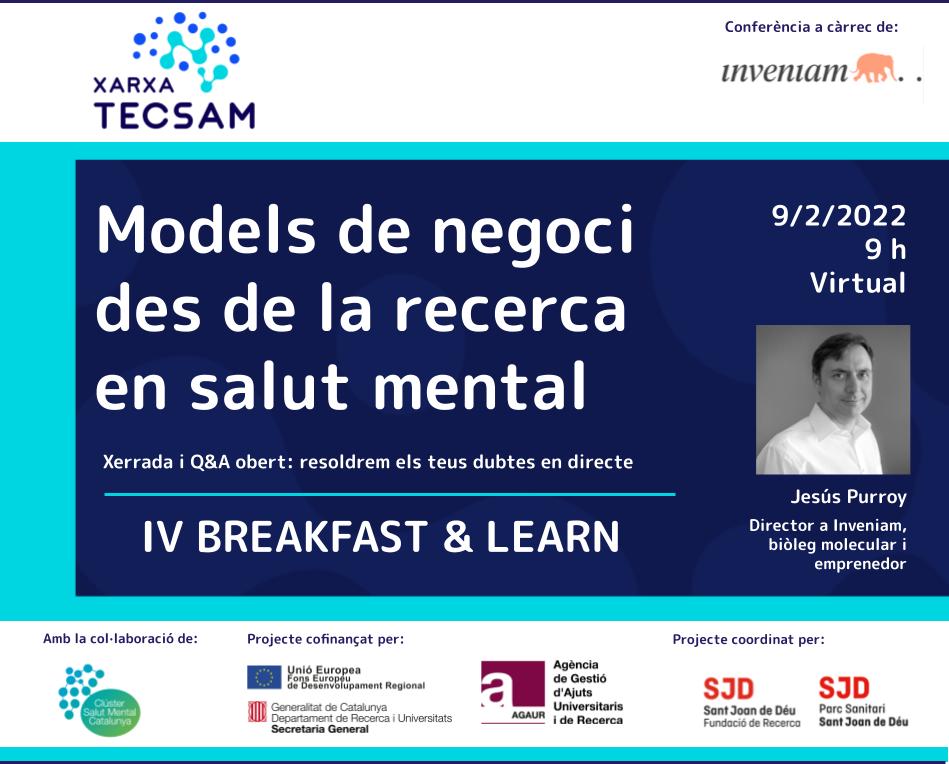 One of the ways of bringing the results of research closer to society and the market is through entrepreneurship, the creation of spin-offs, patents and licenses. To know the types of business models and options that exist for the valuation and transfer of knowledge, we present you the fourth Breakfast&Learn. 
Moving the results of mental health research into society is often thought in terms of entrepreneurship and business. It is necessary to decide which formula makes the most sense to bring each result closer to the market, whether in the form of spin off, license or others. 
In order to resolve doubts and concerns and provide information on this subject, we present the next Breakfast&Learn of the Network: "Models of business from mental health research: talk and open Q&A". 
At this meeting, to be held on Wednesday 9 February at 9:00 p.m., Jesús Purroy, molecular biologist, entrepreneur and Director at Inveniam, will share his knowledge of business models, rating and transfer with special focus in the field of mental health research. The day will end with space to resolve on live doubts about how to generate or define the business model from mental health research. Participants will be able to advance their questions to the registration form. 
The meeting will be held in virtual format and with free access prior registration in this form. 
If you prefer, you can also share questions previously from this form, and they will be answered during the meeting.  
Purroy is a graduate in molecular biology and a PhD in biology, in addition to a PDD at the IESE business school. He worked as director of research and innovation and later as scientific director of the Barcelona Scientific Park. Currently, he has founded two companies of his own and is director in Inveniam, where he advises in terms of strategy and funding to entrepreneurs and projects specially dedicated to the development of life science technology. 
About the Breakfast&Learn
The Breakfast&Learn is a formative initiative dedicated to innovation, valorization and transfer with a special focus on mental health and technology, led by the TECSAM network with the collaboration of the Catalan mental health cluster, Cluster Salut Mental Catalunya (CSMC). These open meetings are expected to be a monthly space where knowledge is shared and synergies and networking are generated, where the speakers will be guests with expertise in the sector, including administration, research, the private sector, as well as users and families.
The meetings will focus on three major thematic areas: Tools for bringing society and research closer together (innovation, marketing, contact with the private sector, business models, spin offs, empowerment of affected and user people…), tools for protecting research results (intellectual protection, patents, other protection models…), and tools for doing research with clinical research (ethical regulatory aspects, medical devices, digital tools, software…).
PROGRAM: 
9 h – Welcome to the Breakfast&Learn by the TECSAM Network
 
9.10 h -Presentation: "Business models from mental health research: talk and open Q&A", by Jesús Purroy, director of Inveniam, molecular biologist and entrepreneur 
 
9.30 h – Q&A
 
10h – End of the meeting
Sign up to the newsletter to get updates
Subscribe now!